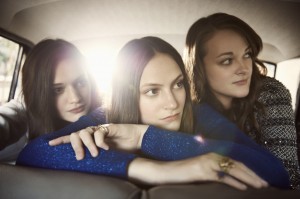 Saw The Staves tonight (6/23/13). There's nothing like the natural shimmer of three-part sibling harmonies. Perfect music to hear before taking a walk under the gorgeous "Super Moon."
They first hit my radar via an NPR Music pre-SXSW sampler that Bob Boilen's team put together. Logistics kept me from seeing them in Austin, but their album has been in rotation since then.
I'd actually made guest-list arrangements to see another band on the west side, but later learned of the Staves show at the Bootleg Bar, and spent some time calculating how much of that first set I'd need to miss to get to the other venue for the Staves. Alas, I was actually relieved to be told, "I don't see your name, sir." Didn't press it, didn't try to contact anyone to fix it, just thanks and hopped back in the car and told my wife, "Woo-hoo! We've got time for dinner and the Staves!"
She had no idea what I was talking about, but she's a fan now, and I'm a bigger fan than I was at the start of the night.
The trio (backed at times by a bass player and drummer) were funny, terrifically talented and very British. But how best to describe their music? The best I can muster at the moment is that there's a strain of contemporary folk/Americana that more than a few careers have blossomed around recently. Think acoustic instruments, a kick drum and tight harmonies.
In my head, that speaks to Shovels & Rope, Wild Child, Old Crow Medicine Show, Civil Wars, Mumford & Sons and very distinctly The Staves. Give 'em a listen.
[soundcloud url="http://api.soundcloud.com/tracks/66198817″ params="" width=" 100%" height="166″ iframe="true" /]